Bitcoin (BTC) is the world's coolest 'currency' that nobody uses that much, yet its value has jumped 15 times in less than 12 months. Just for perspective, your ordinary bank fixed deposit will take 40 years to do so, stock market focussed mutual funds have taken about two decades while some stocks have done it in 10 years.
The current value of one single Bitcoin is over Rs 13.90 lakh (at 11.00 PM on Dec. 12) or easily the costliest real estate anywhere in the whole wide world. This system amazingly neither works with a central bank, nor has a single administrator. Like a deserted island where the price of the last piece of bread is driven by incredible demand, Bitcoin's stunning ascent is a tale in itself that has captivated the mind-space of the digital natives. Since payments in Bitcoin can be made without banks and that too anonymously, it is also popular with criminals and others who want to handle money anonymously. It's also adopted by businesses around the world as a way to pay, but those are few and far between. Ironically, Bitcoin was never designed as an investment avenue but has surprisingly become that meaty money-spinner that everyone wants a piece of.
Saxo Bank global macro strategist and famous Bitcoin bull Kay Van-Petersen has said Bitcoin prices will hit "$50,000 – $100,000 (approx 65 Lakh) within the next six to 18 months."
Speaking to Bloomberg in a short interview, Van-Petersen explained that the influx of institutional money would be the "catalyst" in pushing Bitcoin prices even further.
"We'll get a cascade of ETFs, mutual funds and other investment vehicles breaking out," he forecast, describing the $100,000 price tag as a "prudent" prediction.
Bitcoin can be purchased online and are stores in an online wallet in digital form. You can select from various bitcoin exchanges available in India such as – Unicorn, Bitxoxo, Zebpay, Coinbase etc. Select wallet based on features, platforms they can be used on, and security etc.
Zebpay
India's leading bitcoin exchange. Fastest and easiest way to buy and sell bitcoins in India. Since Bitcoin in India is still waiting to gain momentum, there are joining promotions that you can take advantage of. Zebpay promo code that will get you INR 100 worth of free bitcoins.
Zebpay is one of India's leading platforms to buy & sell bitcoins.
They are a mobile-first company. That means they only have a mobile app available to buy and sell bitcoins.
Zebpay free bitcoins Promo code: REF67258630
Click Link Below to Download Zebpay mobile App Click  Here
When it comes to the number of websites to buy bitcoins, there are plenty.
The real challenge is to find the trusted ones where you are safe, even after sharing your information & adding your financial details.
First of all, CEX is definitely a legit site that supports multiple currencies & locations. You can add funds using a Visa/Master debit or credit card, wire transfer.
The option to buy Bitcoin using your credit & debit card is one of their most used features.
Here are some of the notable features of CEX:
Supports USD, EUR, RUB, GBP, and BTC.
Offers mobile app.
2-factor account authentication (security features).
Buy/sell/trade Bitcoin & Ether.
Buy Bitcoin using credit or debit card.
Buy Ethereum using credit or debit card.
Great customer support.
Trade exchange.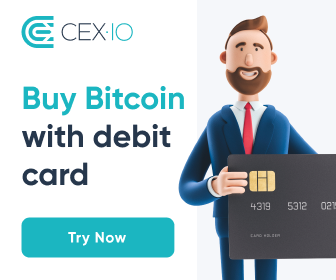 CEX.io is a trustworthy website to buy/sell Bitcoin & Ethereum.
They have taken care of security, and the support is pretty amazing- one thing that is not so common in the cryptocurrency industry.
The option to buy Bitcoin using your credit & debit card is one of their most used features.
Since they support many countries, it's an advantage for users from countries where it's not so easy to buy Bitcoin.